Stop wasting valuable time and resources on PCB library creation.

Mount Prospect, IL - PCB Libraries, Inc. released a new free software tool called "POD Builder" that has access to one million mfr. part numbers on "Parts on Demand" (POD) – www.pcblibraries.com/POD for $1 or $2 each. POD Builder outputs picture-perfect 3D STEP models and footprints to 21 different CAD formats.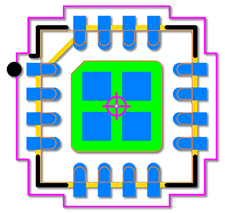 Set up your personal Preferences such as Working Units, Drafting Line Widths, Pad Shapes, Footprint Rotation, unlimited Pin 1 Polarity Markings, Design Rules, Solder Joint Goals and customize 3D STEP color assignments. POD Builder merges component dimensions and your personal preferences to auto-generate unique, yet very consistent footprints and 3D STEP models with your company requirements.
New part requests are also available and delivered in a neutral format in usually a matter of hours, for $11, and then made available to everyone else for immediate download.
"The Library Expert suite, combined with Parts on Demand, makes it possible for any PCB design engineer to never have to manually build footprint or 3D STEP library parts again, while at the same time reducing cost," said Tom Hausherr, CEO and founder of PCB Libraries. "Shave days off every design project, and turn your PCB layout into a work of art with your customized library rule preferences."
The Professional edition of the Library Expert also offers more powerful features such as connectors and unique footprint creation, free access to POD and $9 new part requests.
For more details on the POD Builder, visit https://www.PCBLibraries.com/LibraryExpert/POD
Comparison the Library Expert POD Builder and Professional: https://www.PCBLibraries.com/Products/Compare
About PCB Libraries™
PCB Libraries is a CAD-neutral company that seeks to benefit the industry as a whole. It is a member of the IPC-2581 Consortium to promote an open, neutral, global standard for design data transfer. PCB Libraries is led by veteran technologists in pursuit of automating PCB library development and management, and offers library solutions that have been adopted by many leaders of electronic product design and development all over the world.