Hello All,
I am looking for a footprint for the HX711
Loadcell Amplifier Module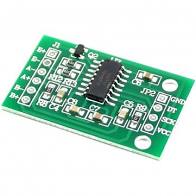 /weighing sensor.
I am not very good at drawing a footprint. Would anyone know where i could find one ?
I already reffer footprint on snapeda of hx711(https://www.snapeda.com/parts/SEN-13879/SparkFun%20Electronics/view-part/?ref=search&t=hx711).But some difference of pins are in between what i need module and what i got.So do i edit that footprint or what to do please let me know .I am new to this software so,looking forward to get proper solution for it.